Skilled excavation worker (m/f/d) - Prehistoric archaeology, no accommodation!!!
ArchaeoBW
Böblingen district
Stuttgart city district,
Tübingen district
Work placement
Work experience
Full/part time
Monthly salary: 2.500 EUR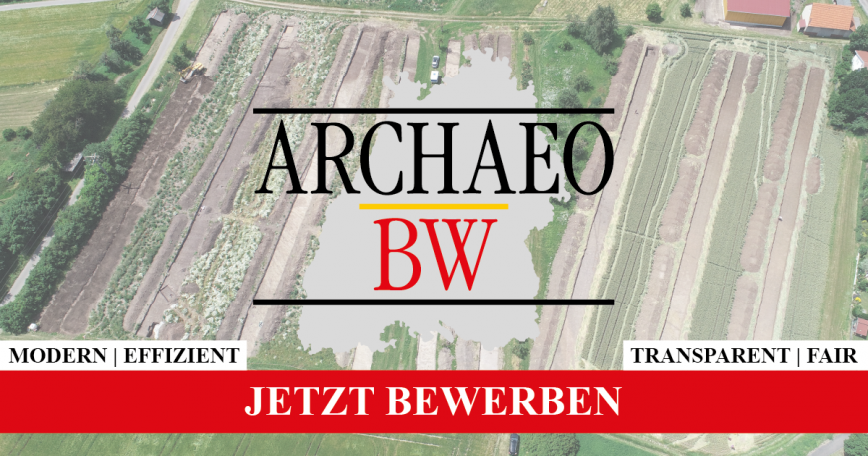 From August 2022, we will be excavating in Herrenberg-Gültstein. Numerous exciting features and finds are to be expected here: there is at least one early medieval burial ground on the site and, in addition to some settlement features, there is a very wide ditch to be explored. We are looking for excavation specialists to help us uncover and document this multitude of different features.

The project will start in August 2022 and last about 8 months. We are looking for experienced excavation workers who would like to support us for at least two months.

Permanent employment is possible!

We do not provide accommodation.

Have we aroused your interest? Then apply now!

Responsibilities
The execution of all common archaeological fieldwork operations (professional excavation, recovery and provision of various small finds, preparation of areas, layers and profiles for documentation)
Supporting the documentation of archaeological contexts, profiles and small finds.
Service and upkeep of tools and machines (e. g. small digger).
Various indoor duties in case of e.g. bad weather.
A basic level of physical fitness and health will therefore be expected.
We also work in bad weather!
Skill Requirements
Experience and interest in archaeological field work
Mobile, stressable, team-minded
Willingness to learn and use latest excavation methods
We offer
Experienced teams - learn from the best!
Work not only for us, but above all with us!
Modern documentation methods - Support the documentation teams in their work and learn with us how modern rescue excavations can work.
Gross monthly salary at 40h/week (full time) of 2400 €.
Safety equipment: Safety is our top priority! Of course we provide the necessary equipment!
When working during the cold months we will provide you with winter coats and hats!
There is
no
accommodation for this project!
ArchaeoBW is an archaeological service provider for Baden-Württemberg. We are looking for archaeologists and people interested in archaeology with knowledge of field work and the recovery of finds for our excavations for every period, both in the city centre and in open spaces. Your tasks will include laying out profiles and plana, operating a mini-excavator and assisting with excavation documentation.

If we have aroused your interest, then simply fill out our online application right away.
Herrenberg is waiting for you. We look forward to receiving your application!

ArchaeoBW GmbH.
Modern. Efficient. Transparent. Fair. We prove it to you!
Marion Schairer
Human Resources Manager
07433 3093601